W.E.ROCK 2008 Promo Posters
Check out the posters that fans and spectators alike will be able to grab from their heros at the National events located throughout the country. Off-Road Expo was the scene where W.E.ROCK featured Autograph Sessions, next is the SEMA Show in Las Vegas where posters of your favorite stars will be available for free! Check them out below...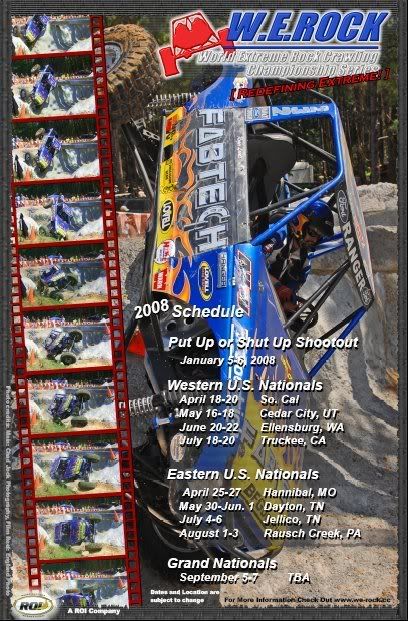 The Season Schedule Poster Featuring Western U.S. Nationals Pro Modified Driver Brad Lovell ::: Photo Cedit: Chad Jock Photography, England Photo, Artwork by On The Run Graphix

The Sequence for this poster was taken by Josh England of England Photo, while the Main Picture was captured by Pirate4x4.com's Chad Jock from Chad Jock Photography. Both taken from different angles and distances, the series of photos show the intesity of the roll over as well as the great poise that Driver Brad Lovell had while navigating his vehicle out the finish gates to complete the course. As you can see, the passenger rear tire is hanging near 8 feet in the air while the driver front tire is laying in a 6 foot hole. Most vehicles in this position rolled over even with attempting to drive out of the situation. Lovell rolled as well, but only after slamming down on the throttle, dropping off the 8 foot ledge on just his driver front tire, crushing his driver front tire into a three foot ledge and bouncing over onto his passenger side while driving out the finish gates. It was a crazy finish that was captured by fans, photographers, and television crews alike.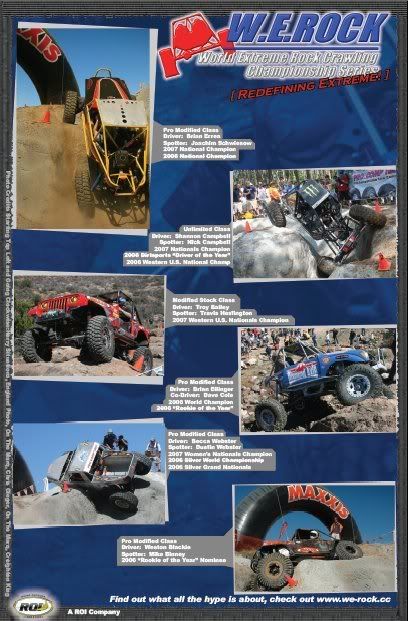 The Autograph Poster for the top teams and their fans ::: Photo Cedit: On The Marq, Harry Situations, England Photo, Crieghton King, Chris Gieger, Artwork by On The Run Graphix

The next poster is action orientated and built just for the ultimate autograph session. Six of some of the top teams in the nation, including a world champion, four national champions, and a rookie of the year. Together fans would have six memorable moments with some of the greatest teams in the history of Rock Crawling. This poster was run at a limited edition for fans tht attended Off-Road Expo and SEMA, all available while supplies last.

Where will you be in 2008 when the action starts?